Shiba Inu (SHIB) price has stagnated around $0.000007 this week despite the rally in the broader crypto markets. As memecoins take the back seat, the on-chain analysis below explores how SHIB price could perform in the coming days.
Despite the ongoing crypto market rally, Shiba Inu's price has remained rooted at the $0.000007 territory this week. Interestingly, other top-ranked memecoins such as Dogecoin (DOGE), PEPE, and BoneShibaSwap (BONE) have all displayed a corresponding dismal performance. Investors appear to be switching focus to emerging sectors such as Real World Assets (RWA) and Telegram Bot tokens.
How could this shift in investor behavior impact Shiba Inu's price in the coming weeks?
The Shiba Inu Ecosystem is Struggling to Attract New Users This Month
Shiba Inu's recent dismal price performance appears to be an offshoot of the persistent decline in network demand since the start of the month. According to on-chain data from Santiment, Shiba Inu has struggled to attract new users since it reached the H2 2023 price peak of $0.000011 on August 12.
The chart below shows that only 1,109 new SHIB wallet addresses were created on Sept 17, a staggering 66% decline from the 3,269 addresses registered on Aug 12.
Network Growth estimates a blockchain network's user-acquisition rate by tracking the number of new wallet addresses created daily. As seen above, the decline in user acquisition began after SHIB lost the $0.000010 support in mid-August.
Typically, a persistent drop in network growth means that the native token that underpins the ecosystem struggles to find new demand. Unsurprisingly, SHIB price has remained stagnant this week while other projects race up the top gainers' charts/
This decline can be attributed to several factors, including the mixed reaction to the Shibarium Layer-2 scaling network launch and investors looking toward other sectors. Unless this trend reverses, Shiba Inu and other memecoins could remain in the back seat in the coming weeks.
Best Cloud Mining Sites 2023: A Beginners Guide
Existing Network Participants are Booking Profits Intermittently
After a month-long persistent drop in price and network demand, disgruntled SHIB holders have started to fold. This indicates that Shiba Inu has recently recorded its third significant spike in Age Consumed this month. Historical data shows that SHIB price has often declined sharply whenever Age Consumed spikes above 150 trillion.
As shown below, Shiba Inu Age Consumed exceeded 150 trillion on September 4 and 11, respectively. And each time, the SHIB price recorded a significant retracement.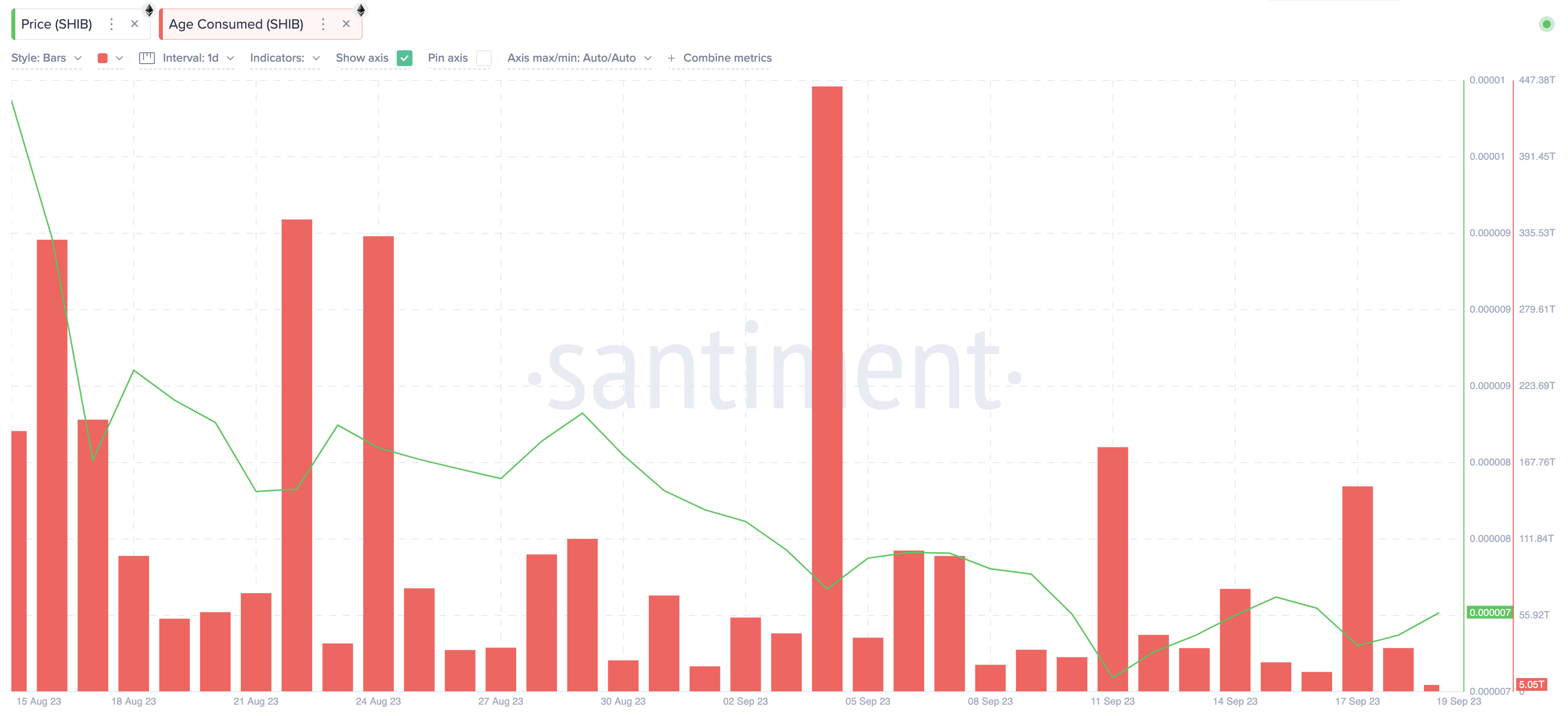 Age Consumed is a critical on-chain metric that assesses changes in the trading activity of long-term holders. It is derived by multiplying recently traded coins by the days since they were last moved. Typically, spikes in Age Consumed mean that many long-held tokens are currently being traded.
Multiple spikes in Shiba Inu Age Consumed this month mean many long-term holders are cashing out to avoid further losses.
In summary, the long-term holders cashing out and the decline in network growth will likely cause Shiba Inu price to underperform amid the ongoing price rally.
Check Out: How To Make Money in a Bear Market
SHIB Price Prediction: Consolidation at the $0.000007 Range
From an on-chain perspective, the current network market demand levels mean that the Shiba Inu price could struggle to break out in the coming days. However, the bears will face significant difficulty forcing a downswing below the $0.000007 territory. 
The In/Out of Money Around Price data, which outlines the purchase price distribution of the current SHIB holders, vividly illustrates this.
It highlights that 22,650 million addresses had bought 11.7 trillion SHIB tokens at the maximum price of $0.000007. Without a significant downturn in the broader crypto market sentiment, many of those wallet addressees could HODL firmly rather than sell at once.
But if the bears can push past that support level, Shiba Inu's price could retrace toward the $0.000006 range.

But if SHIB network demand grows, the bulls could gain momentum to make a move on the $0.000010 resistance level.
Although 35,000 addresses had bought 28.3 trillion SHIB at the minimum price of $0.000008. And if they chose to close their positions early, SHIB price could retrace again.
But if that resistance level gives way, Shiba Inu's price could begin to edge closer to $0.000010.
Read More: 6 Best Copy Trading Platforms in 2023
The post Shiba Inu (SHIB) Price Consolidates – Will it Reclaim $0.000008 Next? appeared first on BeInCrypto.