The cryptocurrency market has experienced a steep decline. Caused by ongoing rate hike fears and Celsius' withdrawal freeze, its total cap has fallen to $999 billion. This is a 4.4% drop in the past 24 hours, as well as a 25% loss in a week. No coin has escaped this selloff, with bitcoin (BTC) and ethereum (ETH) sinking by 28% and 25% apiece in the last seven days. However, with such a marked selloff happening so quickly, the odds of a marked recovery are potentially rising. Various fundamentally sound coins are going at a big discount. This article compiles them into a list of the 5 best cheap cryptocurrency to buy.
5 Best Cheap Cryptocurrency to Buy
1. Lucky Block (LBLOCK)
LBLOCK is up by 7% in the past 24 hours, at $0.00098988. This represents a 35% drop in the past week and a 60% fall in the last 14 days.
Track live crypto price of 10000+ coins!
---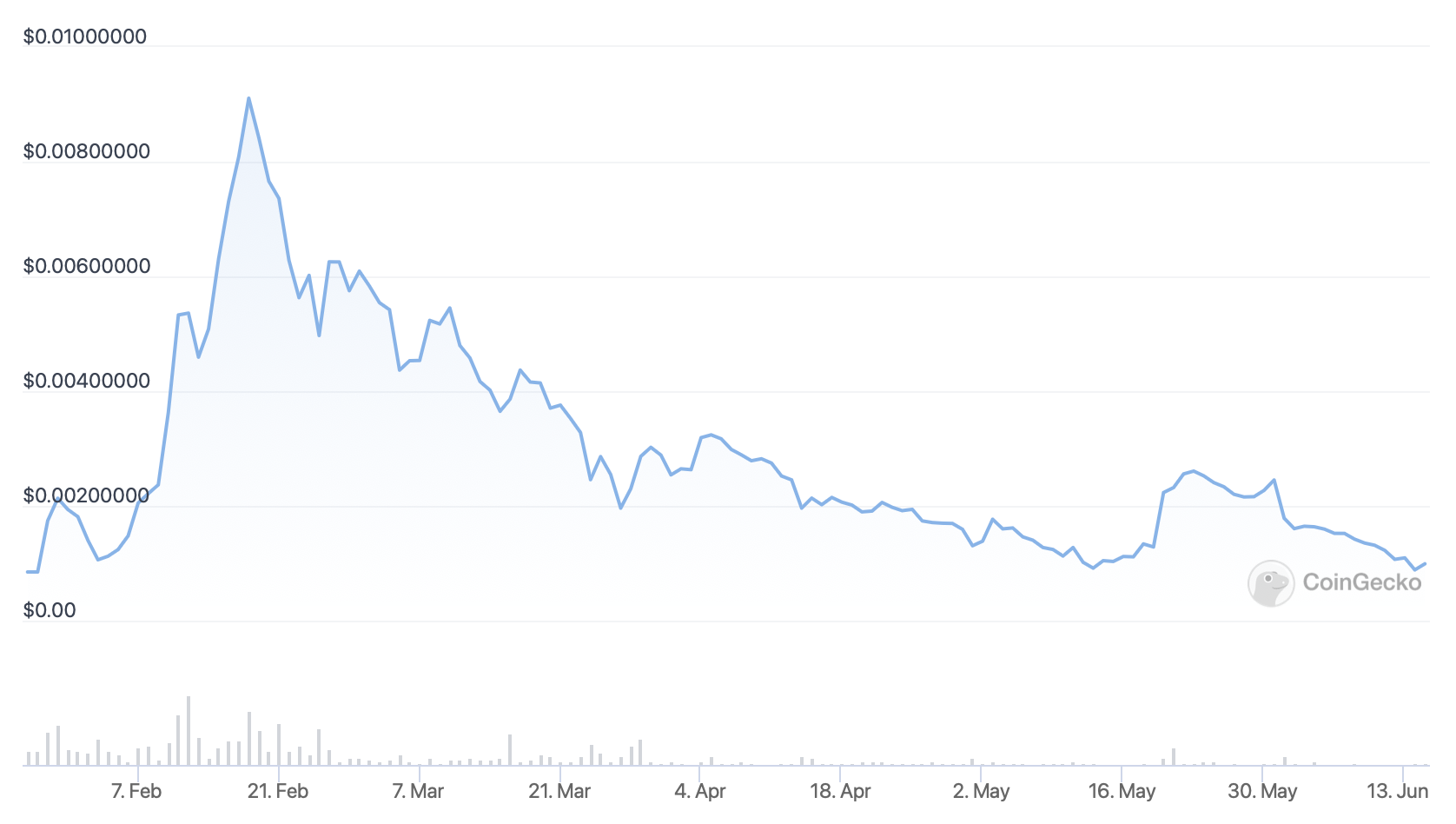 LBLOCK is now 90% down from its all-time high of $0.00974554, albeit 128% up since launching in January.
Despite its recent falls, LBLOCK is now in a position where it can capitalise on renewed market optimism (whenever that returns). Its native platform Lucky Block has begun holding regular draws, having held its first prize draw at the end of May.
Yesterday we had an amazing day! 🤩

First Jackpot and NFT draws, 2 lucky people won $1,000,000 each! 🤑

Here's proof of first daily payments: https://t.co/In9doweJcihttps://t.co/eOWmwsGXXQ pic.twitter.com/3BMLLbXDdK

— Lucky Block (@luckyblockcoin) June 1, 2022
Based on Binance Smart Chain, Lucky Block's daily draws guarantee a minimum prize for winners of at least $10,000. Their successful commencement heightens the bull case for LBLOCK, although other important developments are also on the horizon. Firstly, Lucky Block is planning an Ethereum-based ERC-20 version of the LBLOCK token, something which will increase liquidity. Secondly, it's also in the process of rolling out a number of other games, with raffles also being planned to complement prize draws.
1/ May 16, 2022 🗓 Project updates 📣

👉 Raffle Game production started today 🎟

👉 QA almost complete on the ETH bridge

👉 ERC-20 Token (V2) will be submitted for audit this week 🔓

— Lucky Block (@luckyblockcoin) May 16, 2022
And with the Lucky Block team also working to gain more exchange listings, the market for LBLOCK could grow rapidly. This is why, despite recent falls, it makes the cut on our list of 5 best cheap cryptocurrency to buy.
2. Helium (HNT)
At $9.49, HNT has risen by 26% in the past day and by 3% in the past hour. It has, however, fallen by 10% in the past week and by 4% in the last 30 days.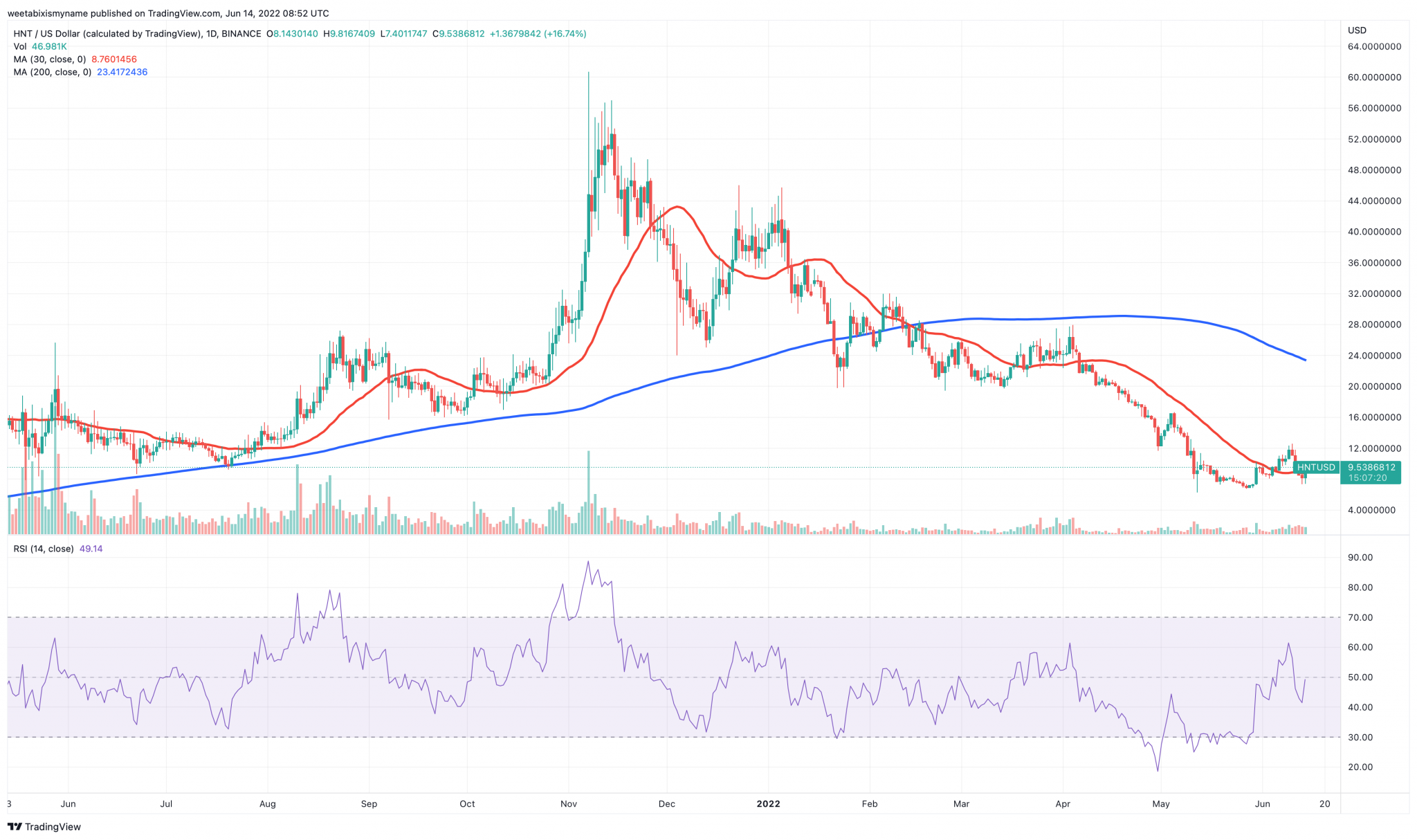 HNT's chart shows it regaining momentum again after yesterday's rout. Its relative strength index (in purple) has returned to 50, having risen to 60 in previous days. Its 30-day average (in red) is also slowly pointing upwards.
This suggests a possible recovery, with Helium's recent growth as a blockchain for the Internet of Things largely responsible for its recent fortunes. For example, it recently launched its official Helium mobile app for iOS and Android, something which expands its sphere of access considerably.
New Wallet App, who dis? 👀 The Helium Wallet App is now available to download on iOS and Android! 🔥 This new App lets you manage your tokens and identity on @helium + comes with a list of new features. Read the blog to find out more: https://t.co/D1Bs5N0uAp

— Helium🎈 (@helium) June 8, 2022
Helium is also seeing the growth of its network, with the launch of MosoLabs being another piece of good news. MosoLabs is a new California-based company that will build and supply hardware so that users can participate in Helium's blockchain-based communications network. And with Helium already counting just over 834,000 hotspots, it could therefore reach one million soon.
It's already June 🤯! Check out @helium updates you MAY have missed this past month:

🤝 New ecosystem partners
🏠#HeliumHouse ATX announced
🎈 Light Hotspots activation
🌎 834K+ Hotspots
📶 5G updates
✅ HIP 59 approved
🗳 HIP 51 vote live
🔊 Community AMAs
👀 Microsoft Uplink pic.twitter.com/d8zXJb0nxc

— Helium🎈 (@helium) June 1, 2022
3. Fantom (FTM)
FTM is $0.246857, meaning it has risen by 24% in the past 24 hours. Of course, it has dropped steeply with the rest of market recently, falling by 32% in the past week and by 35% in the past month.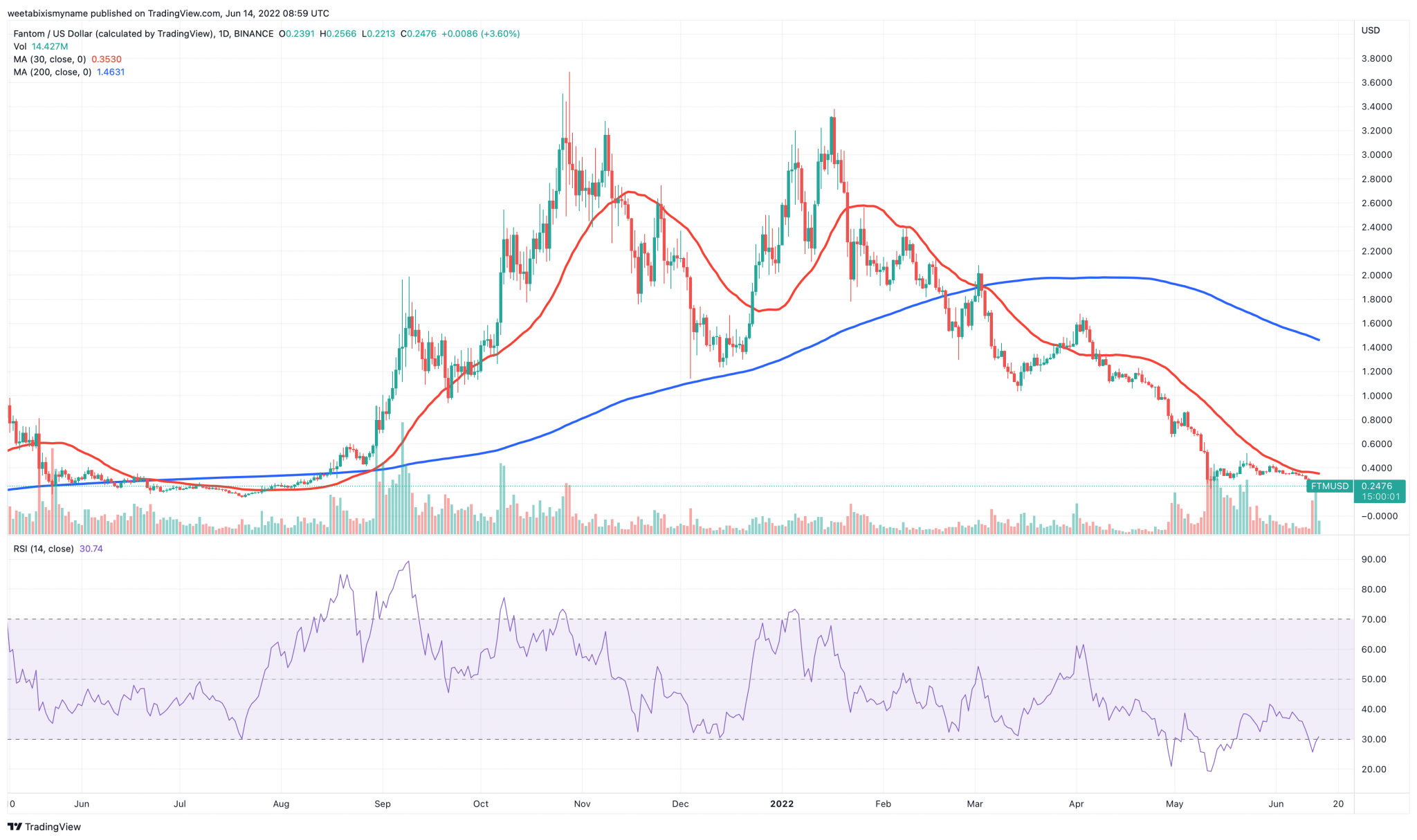 FTM's indicators show that it's very near the bottom of a downswing. This means that, sooner or later, it should begin recovering.
Fantom is a layer-one blockchain that accounts for just over $1.13 billion in total value locked in, making it the eighth-biggest DeFi platform in crypto. One of its major advantages is its scalability, with its ability process transactions asynchronously meaning it can handle around 900,000 per day.
4/

This asynchronous processing means greater throughput and scalability.

With Fantom averaging 900k transactions per day, the data quickly adds up. #Snapsync allows nodes to use a pruned version of the chain to begin validating much faster.

— Fantom Foundation (@FantomFDN) May 19, 2022
Even though it has already reached a healthy size, the Fantom Foundation launched a development fund in March worth $480 million. This will award grants to developers building on Fantom, and should ensure its future growth. This is why FTM should recover strongly once the market returns to normal health, and why it's one of our 5 best cheap cryptocurrency to buy.
Launching a $480m grant program!

After successfully disbursing 35m+ FTM to projects innovating on Fantom, the incentive program is evolving!

With @gitcoin Grants, Fantom will strengthen funding support for a growing array of projects, big or small.https://t.co/dKx3Q3GZpd pic.twitter.com/hZkkDIvjlD

— Fantom Foundation (@FantomFDN) March 31, 2022
4. Avalanche (AVAX)
AVAX has risen by 11% in the past 24 hours. At $16.81, it has also fallen by 35% in the past week and by 50% in the last 30 days.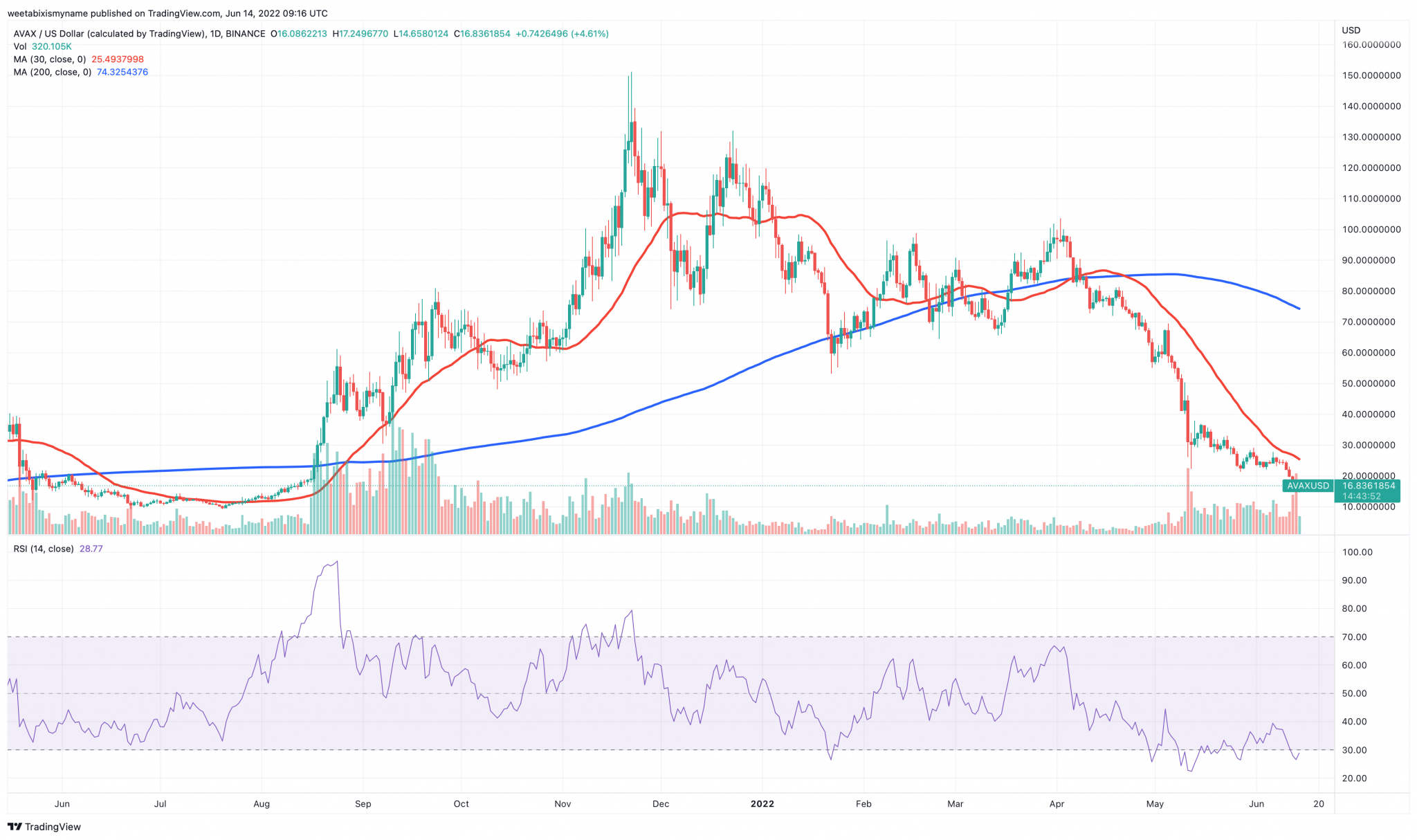 AVAX is arguably very undervalued relative to its fundamental worth. Its indicators show that the market has oversold for some time now. And with its RSI just under 30, it could be due a resurgence.
Avalanche recently celebrated the fact that OKCoinJapan — Japan's largest crypto-exchange — has just listed AVAX. This will boost liquidity for the altcoin.
$AVAX is now listed on the leading exchange in Japan 🔺 https://t.co/ECmRCDrrHE

— Avalanche 🔺 (@avalancheavax) June 14, 2022
Looking at the bigger picture, Ava Labs raised $350 million at a valuation of around $5 billion in April. This comes on top of a $230 million raise from last September. Together, these rounds suggest that the big money is betting on the success of Avalanche, and that the latter has the resources to grow substantially.
More recently, Avalanche established a $290 million incentive programme that will foster the development of metaverse applications on its network. This paves the way for further growth, and again, suggests that AVAX is very undervalued. This is why it's one of our 5 best cheap cryptocurrency to buy.
Introducing Avalanche Multiverse, an up to $290M incentive program focused on accelerating the adoption and growth of Subnets. Multiverse is focused on supporting new ecosystems, including blockchain-enabled gaming, DeFi, NFTs and institutional use cases. https://t.co/R5euxSV5hx pic.twitter.com/PHpET78P6L

— Avalanche 🔺 (@avalancheavax) March 8, 2022
5. Cardano (ADA)
ADA is up by 11% in the past 24 hours, at $0.502472. This means it's down by 17% in the past week, and by 7% in the past month.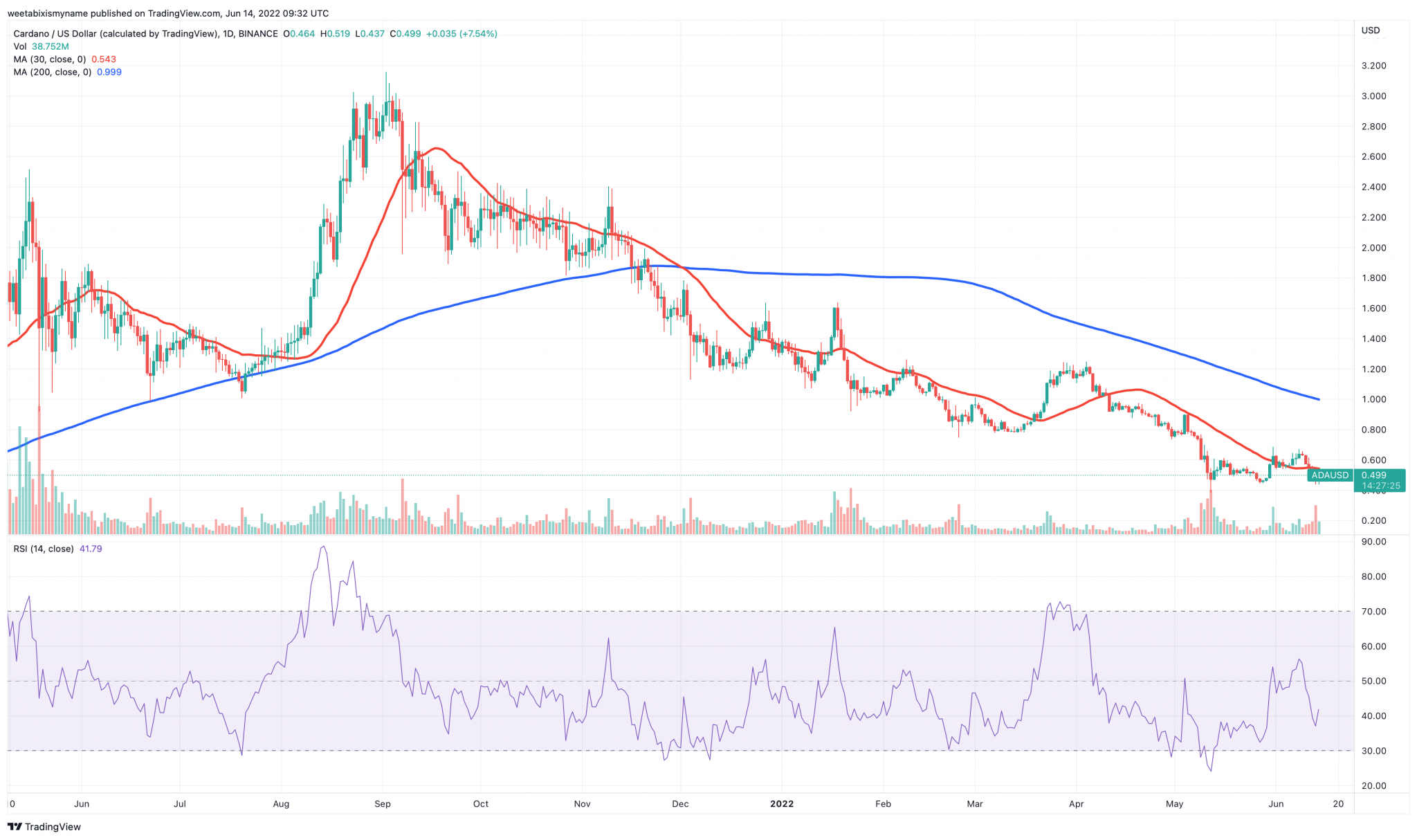 As with AVAX, ADA is highly undervalued. Indeed, its RSI shows that the market has been neglecting it since at least October.
The reason why ADA is undervalued is that native platform Cardano is witnessing an increase in transaction volumes and usage. It now records 24-hour transaction volume in the region of $10 billion, meaning it surpasses Ethereum's. It has also issued over five million NFTs, while the number of dapps building on its network has just passed 1,000. This suggests that once the Cardano ecosystem becomes more active, demand for ADA could surge.
The ecosystem is growing at a fast pace with 1003 projects already #BuildingOnCardano

Many of these projects will be in Austin at @Consensus2022 & at the free #CardanoAtConsensus meetup on 6/08

Meet them by registering your attendance to the meetup here: https://t.co/maxUVW7pYV pic.twitter.com/s0X4DP8H48

— Input Output (@InputOutputHK) June 7, 2022
Capital at risk
Read more:
---
Download MAXBIT Android App, Your best source of all crypto news!
Source link

Share this article: