The cryptocurrency market has backtracked a little after several days of growth. At $2.18 trillion, its total cap is down by 3.6% in the past 24 hours, but up by 5% in the last seven days. Much the same goes for most major coins, with bitcoin (BTC), for example, down by 4% in the past day but up by 10% in the past fortnight. Given that medium-term momentum is still behind the market, this article looks at coins likely to rally soon: 5 cryptocurrency to see price boom this weekend.
5 Cryptocurrency to See Price Boom This Weekend
1. Lucky Block (LBLOCK)
LBLOCK is $0.00252210, down by 11%. It's down by 11% in the past week and by 56% in the past month. That said, it remains a relatively new coin, and since launching in late January, it's up by 480%.
Track live crypto price of 10000+ coins!
---
LBLOCK had risen to $0.00390160 during the past week's rally, yet it has come down again with the market. However, it's long-term prospects remain strong, as the native token of the Lucky Block lottery platform.
Based on Binance Smart Chain, Lucky Block will hold regular lottery draws, beginning later this month. Holders of LBLOCK can spend the altcoin to enter each draw, with entrants having the chance to win 70% of each draw's fund. All holders, regardless of entry status, will equally share 10% of each fund.
Lucky Block has just officially launched its app on the Google Play Store. Its iOS app is due soon, with both opening the platform to millions of users.
Other signs of Lucky Block's growth include the fact that it now counts 48,000 holders of its LBLOCK tokens, while last month it proclaimed itself the fastest altcoin to reach a market cap of $1 billion.
The platform will also be launching an Ethereum-based version of its token, something which should greatly increase its uptake. It can currently be traded via PancakeSwap and LBank Exchange.
🚨Lucky Block V2 #ETH Token and Bridge to V1 Explained 🚨

Please read to learn more about the upcoming $LBLOCK ERC20 ⬇️

— Lucky Block 🤞 (@luckyblockcoin) March 14, 2022
2. Bitcoin (BTC)
At $45,200, BTC is down by 4% in the past 24 hours but up by 3% in the past week. It's also up 10% in the past fortnight and by 1.7% in the past month.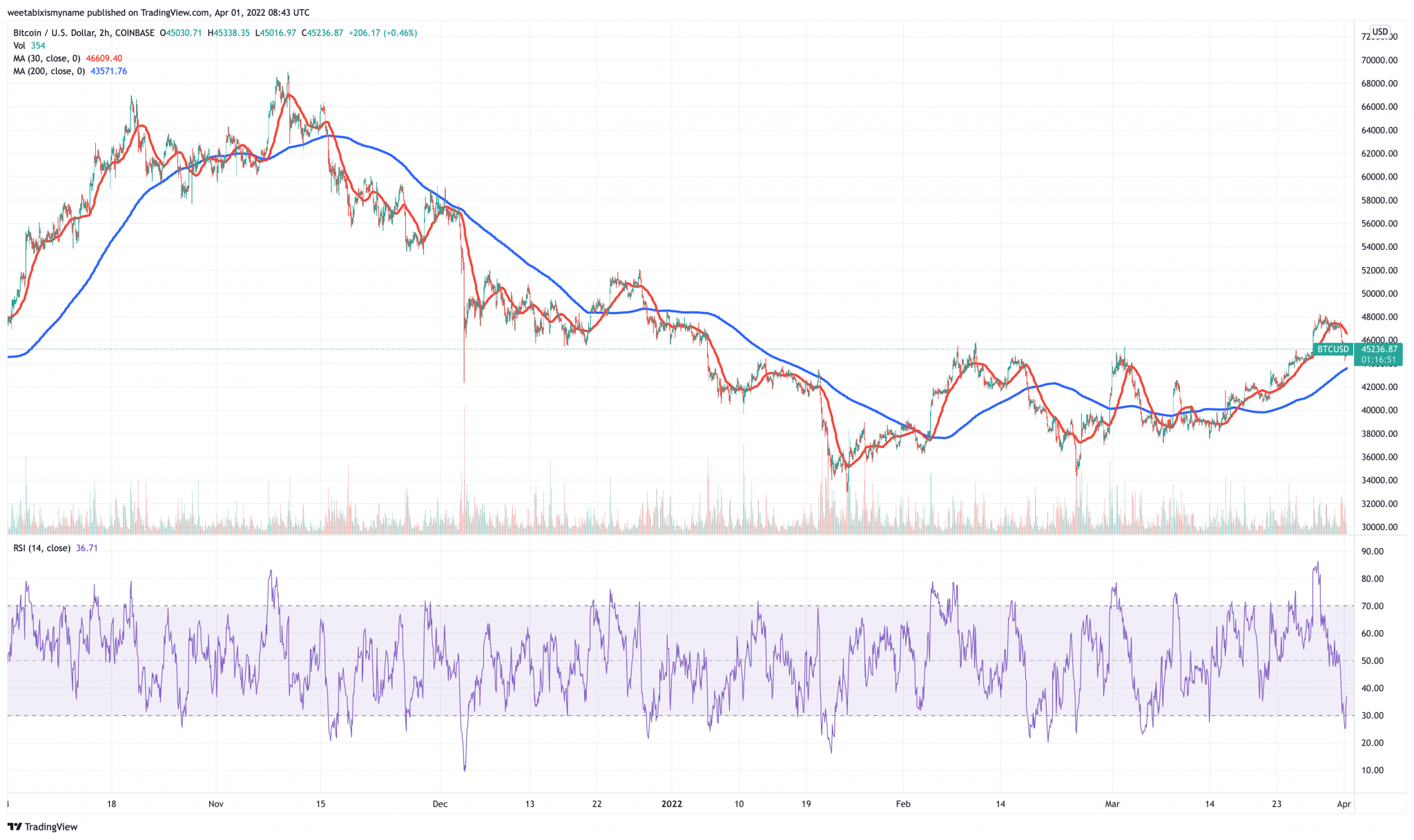 BTC's indicators suggest that now is a good time to buy, before it experiences another surge. Its relative strength index (in purple above) has just sunk below 30, signalling that it's oversold right now.
Despite the dip, BTC's proposition remains as strong as ever. Most recently, a senior Russian lawmaker suggested that Russia's government may accept it as payment for oil and gas exports. Regardless, the cryptocurrency has witnessed elevated volumes in Ukraine and Russia, as various financial pressures drive locals to seek a (relatively) safer alternative currency.
More broadly, we continue to see gradual adoption. This past week, for instance, Goldman Sachs became the first major American bank to transact an over-the-counter bitcoin options trade, paving the way for further institutional adoption. At a time when institutions already hold around $69 billion in BTC, this could prove a big step. This is why we've added BTC to our list of 5 cryptocurrency to see price boom this weekend.
3. Zilliqa (ZIL)
ZIL is up by a big 13.5% in the past 24 hours, reaching $0.213315. It has been a massive week for the altcoin, having risen by 330% in seven days, as well as by 410% in the past fortnight.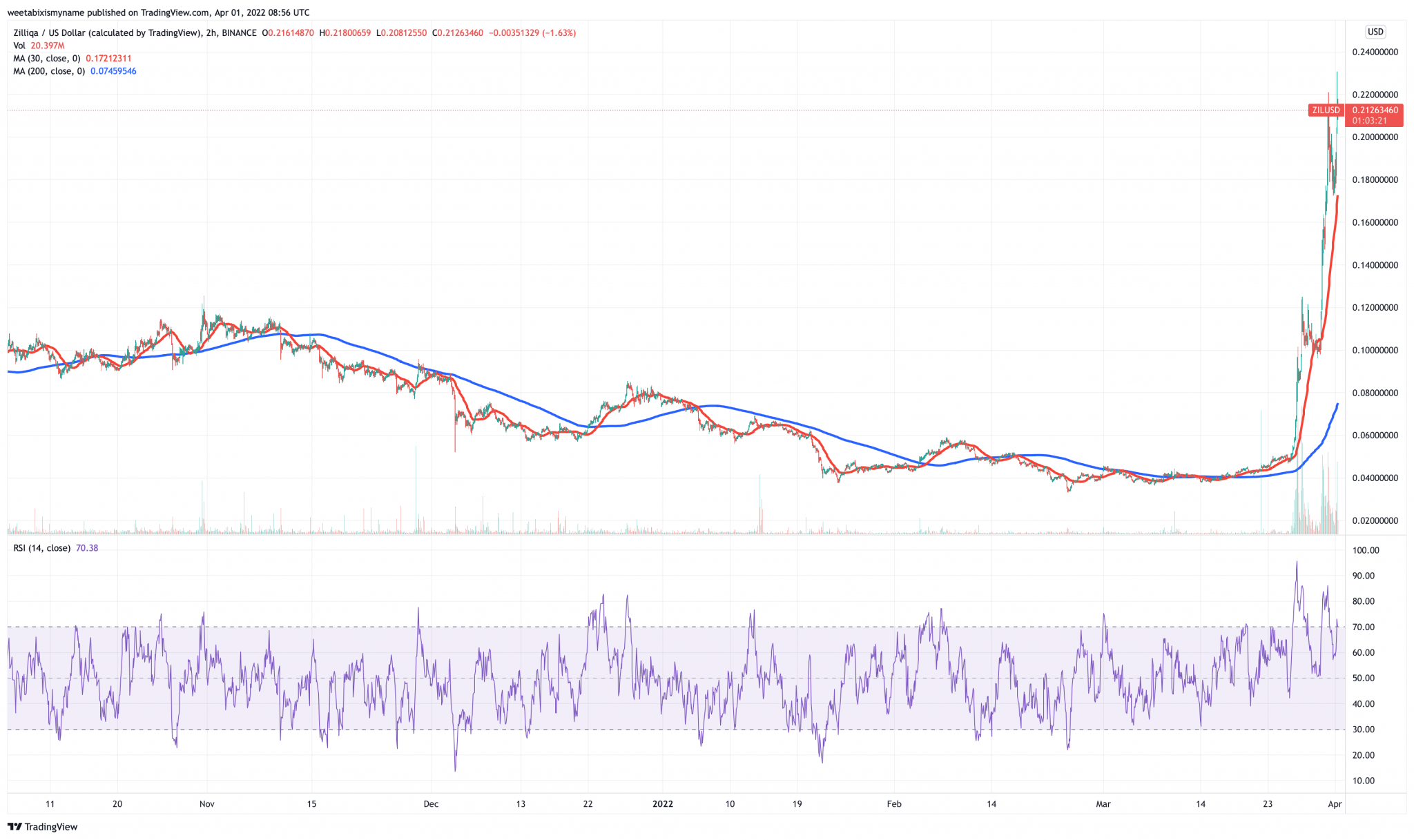 To use a technical term, ZIL's indicators have gone through the roof. Its 30-day moving average (in red above) is more or less vertical. Meanwhile, its RSI has remained firmly above 50 — and often above 70 — for over a week now.
ZIL has been rallying in recent days mostly because of the imminent launch of Zilliqa's metaverse, Metapolis. This is a metaverse-as-a-service platform, meaning that other companies and projects can use it to build their own virtual worlds and experiences.
We're making it official. #Metapolis, Zilliqa's highly immersive, customisable extended reality (#XR) #metaverse platform – Coming soon in 2022!

Here's what's in store for Metapolis. https://t.co/gCTmHeZ2OJ pic.twitter.com/dP7twwBYu4

— Zilliqa (@zilliqa) December 20, 2021
Hype surrounding Metapolis has been amplified by a number of recent partnerships. Zilliqa recently teamed up with talent awards app Agora, while it has also partnered with fiat-to-crypto onramp provider Ramp. This is likely only the sign of more things to come.
We are thrilled to announce our Partnership with @Agora_awards 🚀🚀🚀 https://t.co/B5v0ltYvFJ

— Zilliqa (@zilliqa) March 23, 2022
ZIL can be traded at Binance, Upbit, Crypto.com and OKX, among other exchanges.
4. Waves (WAVES)
WAVES is $56.50 as of writing, representing an increase of 12% in the past 24 hours. It's also up by 81% in the past week and by 220% in the past month.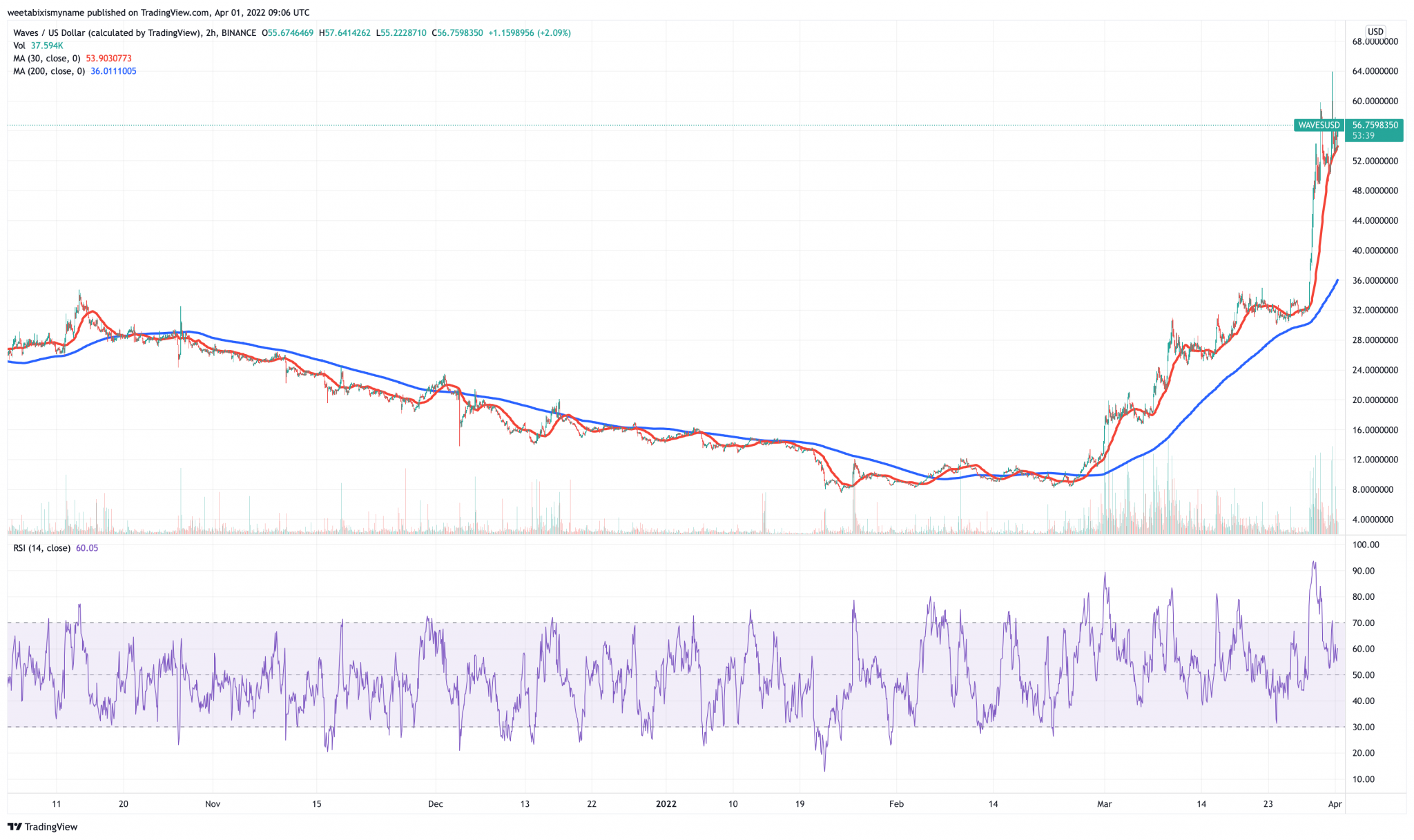 Along with ZIL, WAVES has been one of the big hitters in the past week or so. Its indicators certainly reflect this, with its 30-day average showing that it has attained a new long-term level. Its RSI also indicates continuing momentum.
Waves provides open‑source technologies to help developers build scalable and decentralised Web3 apps. It's undergoing a series of important developments this year, which accounts for why WAVES has been rallying more than other coins in the past few weeks. Its biggest upcoming change is that it's transitioning to Waves 2.0, which will introduce significant scalability enhancements. Waves DAO is also on the horizon, a decentralised autonomous organisation that will open its governance up to its community.
🤝 Waves DAO will upgrade the old futarchy concept and launch a new generic governance model, with applications going far beyond blockchain technology.

🎮 Level 0 Inter-Metaverse Protocol on Waves will help connect different games and metaverses

— Waves 🌊 (1 ➝ 2) (@wavesprotocol) February 10, 2022
On top of this, Waves' total value locked in has risen by more than 200% in just over a month, to $4.78 billion. With Waves 2.0 approaching, this is likely to continue growing, which is why WAVES is in our list of 5 cryptocurrency to see price boom this weekend. It can be traded at Binance, Crypto.com and Upbit.
5. Fantom (FTM)
FTM is up by 6% in the past 24 hours, reaching $1.54. This represents a 17% rise in the past week and a 27.5% rise in the past fortnight, although FTM is down by 16% in the last 30 days.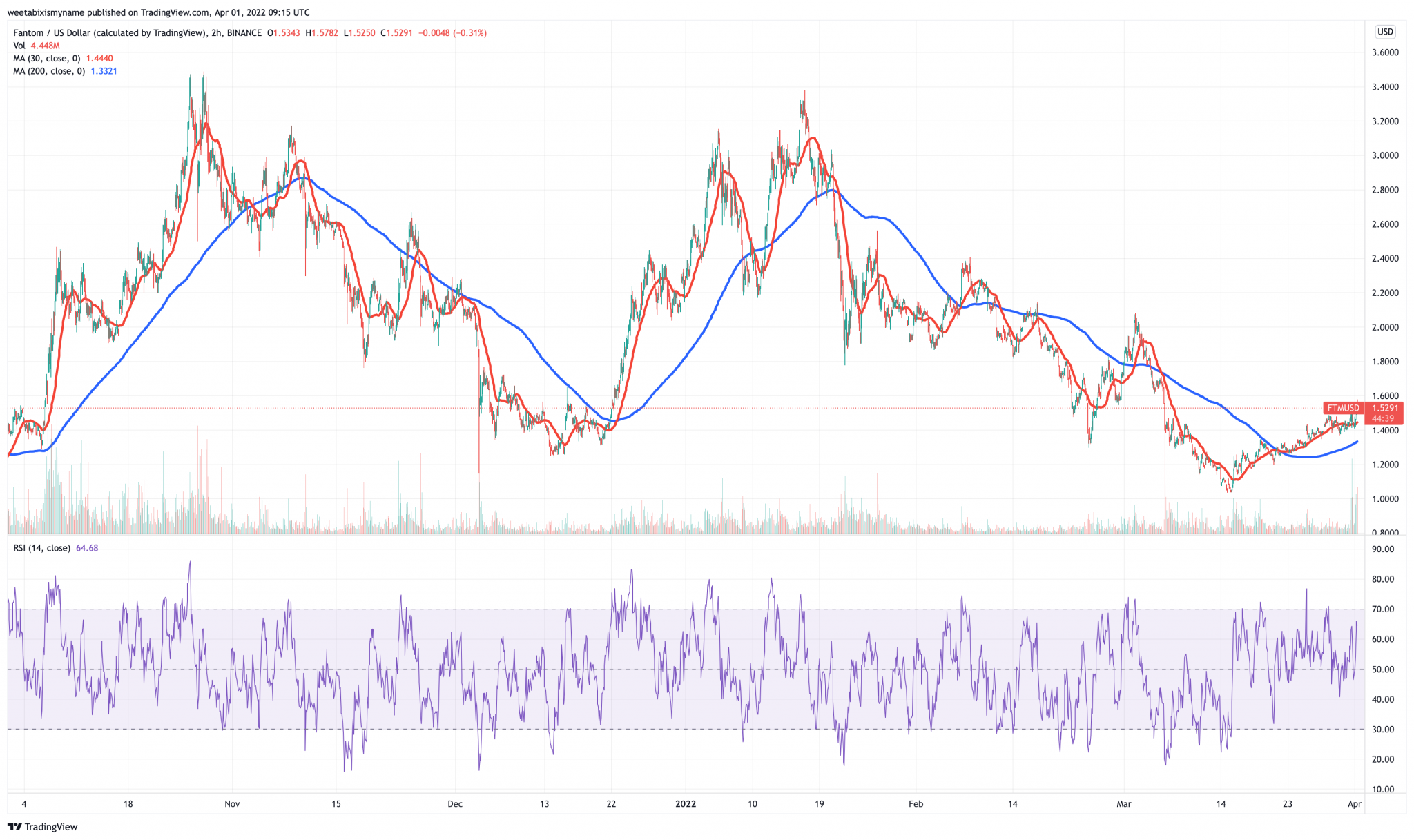 FTM's indicators show good momentum. Its 30-day moving average is above its 200-day, while its RSI has more or less continuously been above 50 for the past few weeks.
Fantom is a layer-one blockchain that can run smart contracts and uses a faster, asynchronous Byzantine Fault Tolerance consensus mechanism. One of the main reasons it's rallying is that it's on the cusp of launching its Fantom Virtual Machine (FVM). This is a virtual machine compatible with Ethereum but, based on Fantom (rather than the slower Ethereum), can run transactions at greater scale. In other words, it will allow Ethereum dapps to be ported over to Fantom, while also enabling them to run at scale.
FVM is going to be one of the biggest upgrades to Fantom

In this thread, we'll cover:

🟦 What are the limitations of the Ethereum Virtual Machine (EVM)?

🟦 How @FantomFDN is solving them?

Read on 🧵🔽 pic.twitter.com/UmERj57W8o

— Stader.Fantom (@stader_ftm) March 30, 2022
Investors can trade FTM at eToro, as well as at Binance, HitBTC and OKX.
Capital at risk
Read more:
---
Download MAXBIT Android App, Your best source of all crypto news!
Source link

Share this article: