According to data from CryptoCompare, at 12:00 UTC, Bitcoin broke through the $17,000 resistance level for the first time since 7 January 2018 seemingly thanks to a weaker U.S. dollar index (DXY) and market sentiment at "extreme greed" levels.
One hour later, the Bitcoin price reached $17,086. Since then, it has slightly retraced to $16,960, which means that it is up 3.87% in the past 24-hour period.
As for the U.S. dollar index (DXY), which is a measure of the strength of the U.S. dollar against a basket of six foreign currencies, it has been more or less been steadily getting weaker during the current COVID-19 pandemic. On March 20, it was 102.82; currently (as of 13:14 UTC on November 17), it is trading at 92.34, down 0.33% today.
The other thing to bear in mind is that Bitcoin is currently inversely correlated to the U.S. dollar:
As for investor sentiment in the crypto community, the Crypto Fear & Greed Index, which is based on an analysis of "emotions and sentiments from different sources", is currently telling us that we are in "Extreme Greed" category: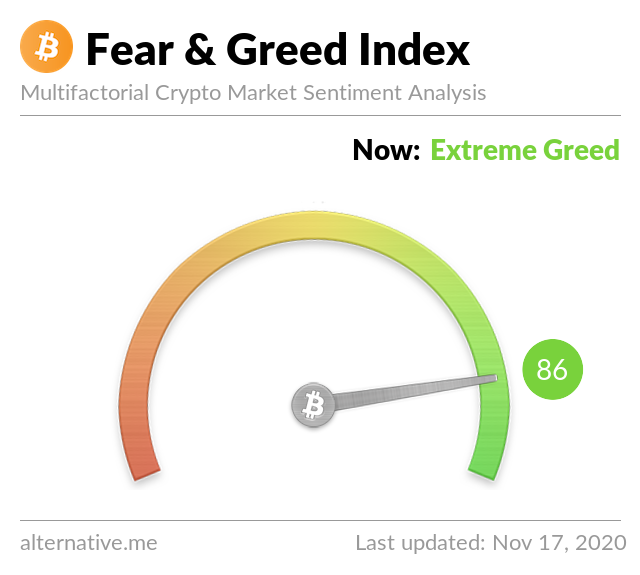 Here are what some of the most prominent crypto analysts and traders are saying about Bitcoin's latest price action:
Featured Image by "GregMontani" via Pixabay.com
The views and opinions expressed by the author are for informational purposes only and do not constitute financial, investment, or other advice.
---
Download MAXBIT Android App, Your best source of all crypto news!