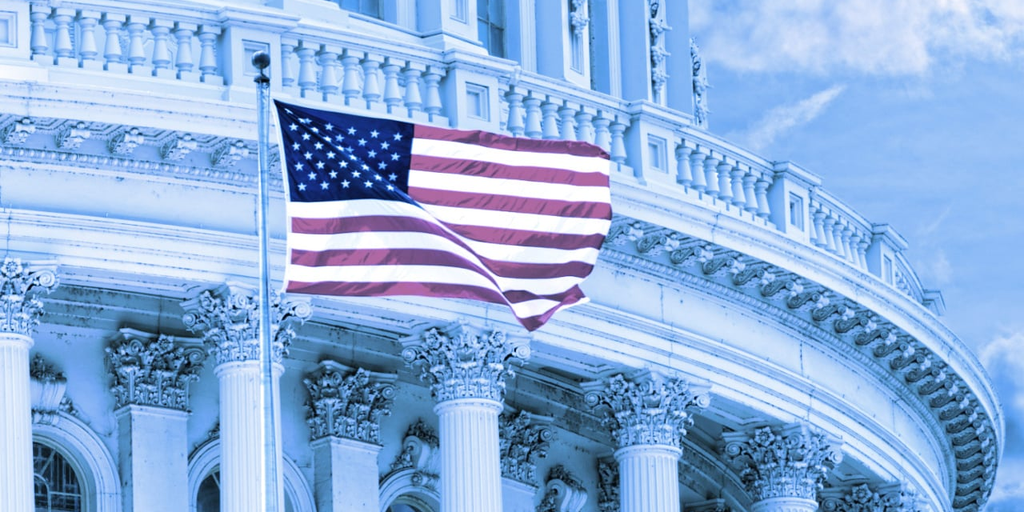 A bipartisan group of senators introduced a bill earlier this month that seeks to bolster the federal government's powers in fighting perceived foreign technology threats. And some in the digital assets industry are warning it could possibly spell disaster for crypto.
The bill entitled the RESTRICT Act—which stands for Restricting the Emergence of Security Threats that Risk Information and Communications Technology—has garnered the support of 21 lawmakers who've co-sponsored the bill as well as the White House, which has urged Congress "to act quickly to send it to the president's desk."
In the name of protecting America's national security, the bill calls on the Secretary of Commerce "to identify, deter, disrupt, prevent, prohibit, and mitigate transactions involving information and communications technology products in which any foreign adversary has any interest" by establishing new procedures.
Its introduction preceded a congressional hearing on Tik-Tok last week, where officials grilled the social media application's CEO with questions about the firm's ties to China.
But the bill's language is so broad that it could be used to prevent Americans from conducting cryptocurrency transactions or engaging with networks like Bitcoin entirely, according to a blog post from the cryptocurrency advocacy group Coin Center. 
"Although the primary targets of this legislation are companies like Tik-Tok, the language of the bill could potentially be used to block or disrupt cryptocurrency transactions and, in extreme cases, block Americans' access to open source tools or protocols like Bitcoin," it states.
The advocacy group's primary issue with the RESTRICT Act is that it would create a regime within the Secretary of Commerce that would effectively run parallel to the U.S. Treasury Department's Office of Foreign Assets Control (OFAC), Coin Center's Director of Research Peter Van Valkenburgh told Decrypt.
In that sense, Van Valkenburgh said the regime would be "redundant" and create "two different parts of the executive branch [that] can independently and without a lot of procedural checks ban technologies."
Another problem with the bill, according to Coin Center, is the potential scope of the word "interest," which could be "exploited in order to ban Americans from using entire classes of technologies" if interpreted broadly, the advocacy group warned in its blog.
As an example, Coin Center referenced the blacklisting of the Ethereum coin-mixing tool Tornado Cash last summer by the OFAC, which Coin Center is currently challenging in court.
Under the International Emergency Economic Powers Act (IEEPA), the OFAC is granted the power to prevent Americans from transacting with sanctioned foreign persons.
And though it's used to maintain privacy between people conducting Ethereum transactions, Tornado Cash was sanctioned by the OFAC as a whole for its alleged use by North Korean state-sponsored hacking groups to launder stolen funds.
Coin Center stated it would not object to the RESTRICT Act if it was used "narrowly" to prevent Bitcoin transactions with a specific recipient but cautioned against an interpretation that could argue "the entire class of all Bitcoin transactions, for example, is a class of transactions in which U.S. foreign adversaries have an interest."
The advocacy group also raised concerns about the ability of Americans to challenge abuses of power based on the bill's language and the potential for it to infringe on free speech compared to IEEPA.
"It's going to be harder to challenge the designations made by the Secretary of Commerce under the RESTRICT Act if it was to pass into law because of the limitations on people's ability to bring challenges," Van Valkenburgh said.
The bill's language is expansive in terms of the technology it would apply to, including "mobile networks," "cloud-based or distributed computing and data storage," "payment applications," and "e-commerce technology," such as "online marketplaces" or "internet-enabled payment technology."
"It's one thing to say that the national security complex should be able to ban specific examples of technology when they are directly owned and controlled by a foreign adversary," Van Valkenburgh said. "But it's another thing to say that you can just identify a whole class of technologies, irrespective of their foreign ownership, and then claim that some foreign adversary has an interest in them."
Stay on top of crypto news, get daily updates in your inbox.
Source link

Share this article: