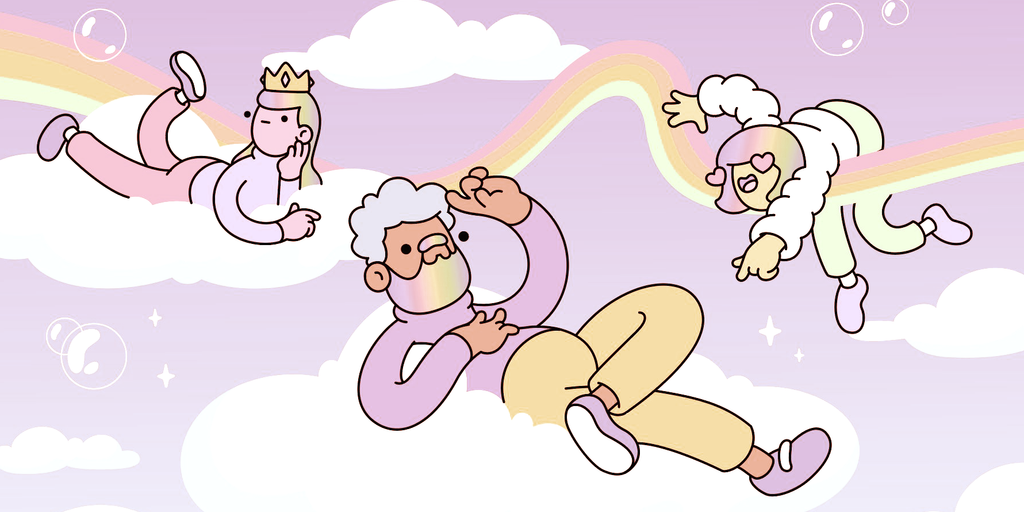 There's growing tension between the holders of prominent NFT project Doodles and the collection's founders, as the project attempts to build out a brand in the increasingly competitive Web3 space. Now that tension is boiling over thanks to comments from a Doodles co-founder pushing back against critics—and it may not be landing well with collectors if the floor price of the NFTs is anything to go by.
Doodles co-founder Jordan "poopie" Castro shared a post to the project's official Discord server on Wednesday defending the team's approach to building new features and products away from the spotlight—moves that some see as counter to the "open" ethos of Web3. A screenshot of the post (which Decrypt verified is legitimate) is spreading across Twitter today.
"We're trying to go from a startup to a leading media franchise. We are no longer an 'NFT project,'" Castro wrote. "The more time/money/resources we invest in following the latest 'build in public' trends that fuel speculation, the less we have to achieve our long-term vision."
"We are not going to spend any resources appeasing those with financial motivations. We never have and never will," he continued. "If we are going to focus energy on any [group] of people, it will absolutely be our most loyal collectors."
Decrypt reached out to Doodles representatives but did not immediately receive comment or clarification on Castro's comments.
Response to the comments has been mixed across social media. Some see Castro's comments as ambitious, suggesting that he's saying that Doodles is no longer just an NFT project because it's aiming higher. "The quicker we get rid of the term 'NFT project' the better [to be honest]," one Web3 project founder tweeted in response.
The quicker we get rid of the term "NFT project" the better tbh.

As I've been saying for a year and a half, these are all startups/businesses. https://t.co/1nuAaTrfh6

— Daniel Tenner (swombat.eth) 🔮 (@swombat) March 16, 2023
Others see it as a rejection of Web3 principles, and a sign that Doodles is pushing back on the scene that helped the project find prominence in the first place. It follows previous complaints from holders and other observers about lacking communication from the founders, as well as an NFT NYC party last year that felt like a corporate presentation.
"So [Doodles] got $50M then decided not to be an NFT project anymore," tweeted Farmer Nash, the pseudonymous founder of the Goombles NFT project. "This is basically a long way of saying, 'We're going to be a Web2 business and we don't care about our holders.'"
Doodles also faced pushback from some members of the community regarding Wednesday's launch of limited-edition digital NFT socks. Many people on Crypto Twitter criticized it as a relatively small update after Doodles recently teased major moves ahead.
"It's actually wild how disconnected some project founders are from the community," a pseudonymous NFT collector named Fetty tweeted. "Doodles thinks they can hype up a 'socks' drop after not tweeting for months."
Doodles prices have fallen over the last 24 hours amid pushback to the socks announcement and co-founder's comments. The floor price—or price of the cheapest-listed NFT on a secondary marketplace—has dropped about 13% during that span when measured in USD, down to about $5,850 (3.53 ETH), per data from NFT Price Floor.
The floor price in USD is down 33% since March 1. By contrast, the Bored Ape Yacht Club NFT collection is down 4% over the past 24 hours to a current price of $106,200 (over 64 ETH), and has fallen nearly 7% since March 1.
Doodles launched its Ethereum NFT collection in 2021. The project raised $54 million last year at a $704 million valuation, in a round led by Reddit co-founder Alexis Ohanian's Seven Seven Six VC firm. The original Doodles NFTs have yielded some $600 million worth of trading volume to date, per data from CryptoSlam.
The company also added musician Pharrell Williams as its chief brand officer last year, and recently announced a larger-scale Doodles 2 project on the Flow blockchain. Doodles 2 features customizable full-body avatars with tradeable NFT clothing and accessories.
Stay on top of crypto news, get daily updates in your inbox.
Source link

Share this article: