In a bid to salvage the LUNA and UST crash, the Luna Foundation Guard (LFG) liquidated 80,081 BTC, but these coins were received with open arms by entities holding less than 10,000 Bitcoins.
Market insight provider Glassnode explained:
"During the LUNA triggered sell-off in early May, a total of 80,081 BTC were liquidated by the Luna Foundation Guard. Interestingly, the supply volume held by entities < 100 BTC has since increased by 80,724 BTC. This shows a transfer from LFG to <100 BTC holders."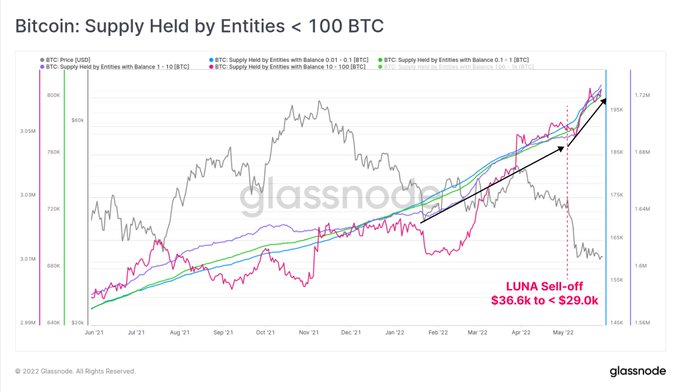 Source: Glassnode
When things started going haywire in the Terra network, the LFG decided to sell its Bitcoin reserves to try and stop the collapse of the LUNA and UST tokens earlier last month.
However, this decision came a little too late because the damage had already been done, according to Binance CEO Changpeng Zhao (CZ).
CZ had previously commented:
"The Terra team was slow in using their reserves to restore the peg. The entire incident may have been avoided if they had used their reserves when the de-peg was at 5%. After the value of the coins had already crashed by 99% (or $80 billion), they tried to use $3 billion to do the rescue. Of course, this didn't work."
Therefore, Glassnode statistics show that the Bitcoin reserves exchanged hands from the LFG to entities with less than 100 BTC.
Does the accumulation phase back?
The accumulation phase in the BTC seems to be back based on various indicators. Ki Young Ju, CryptoQuant CEO, pointed out:
"The last Bitcoin accumulation phase was in mid-2020, lasting for 6 months. As of May 2022,, it's pretty obvious that BTC is in an accumulation phase for me. Institutions that drove the 2021 bull-run also bought in this $25-30K range."
Market insight provider On-Chain College echoed similar sentiments and stated:
"Bitcoin has entered the heavy accumulation zone (white), which shows us that larger entities (or a large % of the network) are accumulating."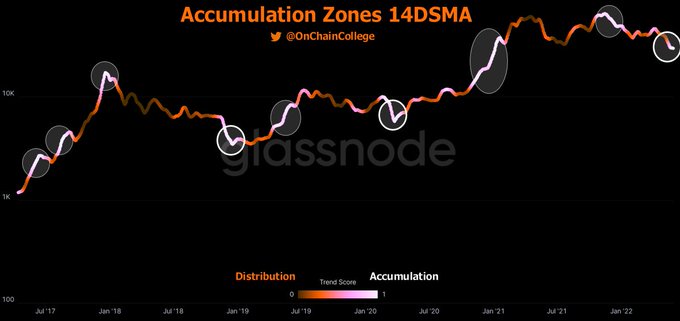 Source: Glassnode
With accumulation being a bullish sign as more coins are bought, it remains to be seen how Bitcoin plays out. 
Image source: Shutterstock
Source link

Share this article: