Disclaimer: The text below is a press release that was not written by Cryptonews.com.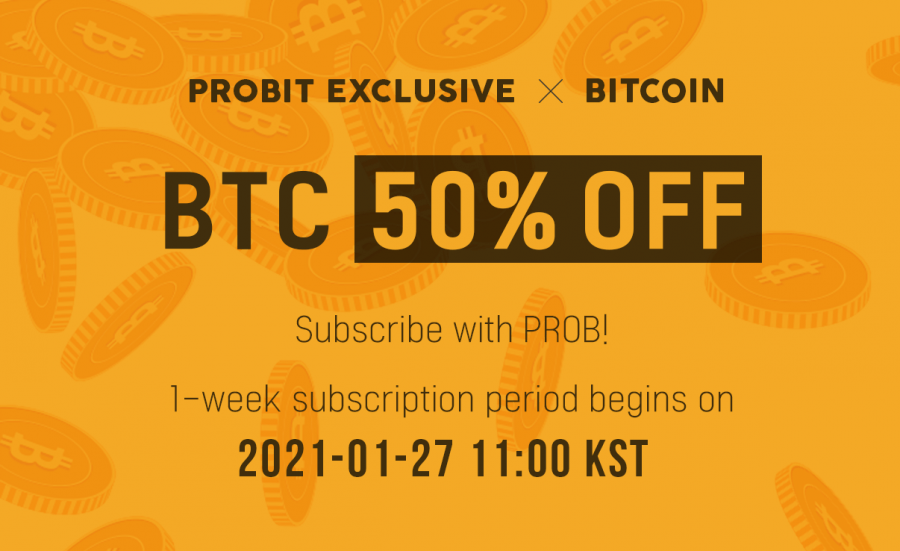 ProBit Exchange turned heads in the crypto community following a special BTC holiday edition of its Exclusive subscription model featuring 50% off market price offers for many premium tokens in the space. The platform has seen fit to hold another extended subscription period starting January 27 for all retail investors and will likely be the last opportunity to buy Bitcoin for under $20,000 for the foreseeable future.
BTC recently cracked the top 10 world global asset list for the first time on the heels of shattering its ATH to extend its market cap to over 700 B as established financial giants continue to predict enormous projections well into the 6-figures. Wide-scale adoption is surging as retail and institutional interest has increasingly found BTC a home in many digital asset portfolios.
PayPal played a large role in opening the retail floodgates by providing a convenient onramp for the uninitiated to navigate the process of buying, selling and holding Bitcoin. The payment platform has reached $242M in trading volume with future rollouts that would enable its 26M merchants to receive crypto payments directly and have it automatically converted into their local currency.
The surge in institutional capital is largely attributed to the Grayscale Bitcoin Trust (GBTC), which holds significant sums of BTC purchased through capital from private investors. As accredited investors are unable to purchase BTC through standard methods, holding shares in the publicly listed and SEC-approved vehicle enables BTC exposure, albeit indirectly.
Currently, GBTC represents over 21B AUM and will likely grow significantly following its reopening to new investors.
While it has proven to be a popular vehicle for the more elite investors, the entire industry continues to look to the horizon for an official ETF that would directly track the index price of BTC and enable trading akin to that of standard stocks. An ETF would allow speculative BTC purchasing while delegating the headaches associated with custodial and regulatory uncertainties to a trusted third party.
BTC has converted many significant names including ardent evangelist MicroStrategy CEO Michael Saylor, whose forays are well documented. Saylor will be one of many industry leaders on hand for the upcoming BTC for corporations online course to break down the rise of BTC adoption and delve into corporate integration avenues which bode well for the prodigious flow of institutional support.
ABOUT PROBIT EXCHANGE
ProBit Exchange is a Top 20 crypto exchange globally. We have completed over 200 rounds of IEO and have been consistently ranked Top 4 in Korea. ProBit Exchange provides unlimited trading access highlighted by nearly 1,000 trading pairs.
ProBit Exchange will be offering 50% discounted BTC subscriptions starting January 27 as an early 2021 gift to users.
PROBIT EXCHANGE'S GLOBAL BRAND TRUSTED BY MILLIONS OF USERS
100,000+ community members
800,000+ monthly active users
3,000,000 monthly web visitors
50,000,000 users on partnering aggregators and wallets such as CoinMarketCap
User interface of Multilingual website supporting 41 different languages
Marketing and community support in 8 key languages
Join our active programs and get huge benefits!
1. Trading Fee Discount: Buy PROB, pay trading fees with PROB & get as low as 0.03% trading fee
2. Stake Mining: Stake PROB and earn PROB at a rate of 4% per annum
3. Referral Program: Earn 10-30% of trading fees for referring friends to ProBit
4. ProBit Exclusive: Subscribe to 50% off Top 200 tokens
5. Auto Hold Campaigns: Hold tokens and get 6% annualized returns
---
Download MAXBIT Android App, Your best source of all crypto news!