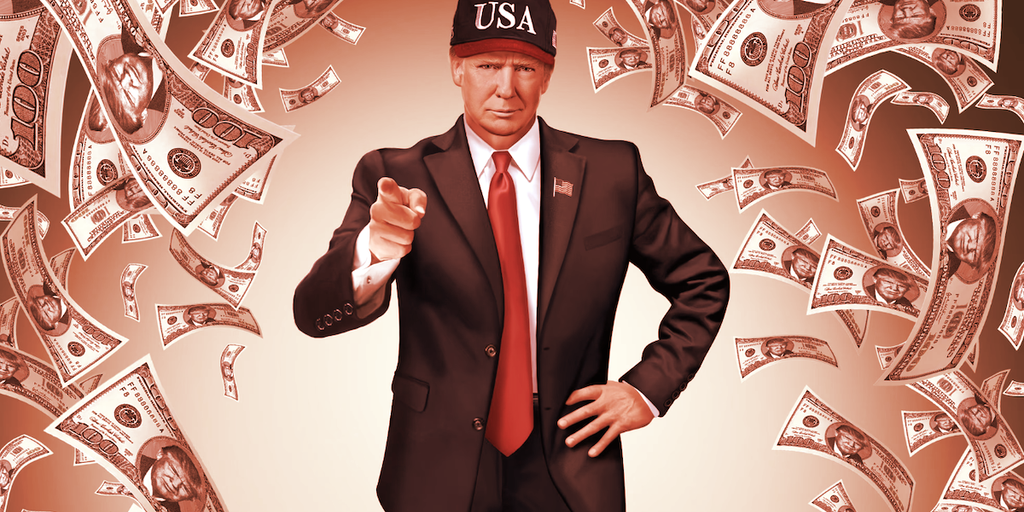 Donald Trump's NFT trading cards grabbed ample attention when launching in December, then fell flat once January rolled around. But as the disgraced former United States president plans another run for office and a potential return to social media platforms, his collectibles are once again surging in price and trading activity.
Trump's digital trading card NFTs minted on Polygon, an Ethereum scaling network, hit a new all-time high floor price of $1,000 on Sunday, per data from NFT Price Floor. The "floor" is the lowest price that an NFT from a particular project is listed for on a marketplace.
The NFTs originally minted for $99 apiece as Trump's business partners sold 44,000 of the 45,000 collectibles in mid-December. Prices quickly surged, landing as high as $990 worth of ETH on leading marketplace OpenSea on December 17, but the short-lived hype gave way and prices tumbled in the days and weeks thereafter.
But as market-wide data from NFT Price Floor shows, prices have been climbing steadily since mid-January, ticking up from around $250 worth of ETH on January 13 to the new peak of $1,000 on Sunday. As of this writing, the floor has only slipped slightly, down to $983.
They're actually selling, too. According to sales data from CryptoSlam, over $2.4 million worth of Trump NFT trades have taken place so far in February, nearly matching the full January total of just over $2.6 million worth of trades. The average sale price has nearly doubled to $905 per trade, and they've yielded about $313,000 in trades over the last 24 hours alone.
The initial drop of the NFTs was marked by widespread criticism, even from some of Trump's own supporters, after he teased it as a "major announcement." But buzz around the project propelled initial sales, with the 44,000 NFTs selling out at $99 a pop and then millions of dollars' worth of secondary market sales. The project creators take a 10% cut of secondary sales.
But when daily trading volume in January fell 99% from the peak just weeks earlier, it appeared that the hype had well and truly faded. What, then, is driving the recent resurgence?
By and large, it appears to be traders betting on the NFTs gaining even more value as Trump reemerges into the mainstream. His accounts on Twitter, Facebook, and Instagram have all been restored recently after being banned following his role in the January 6 attacks on the U.S. Capitol. He hasn't used the accounts yet, but can if he chooses to do so.
"My sense is that people are anticipating a possible rally if he speaks about the NFTs, should he return to Twitter or otherwise," pseudonymous Proof Director of Research punk9059 told Decrypt.
Meta just announced plans in late January to restore Trump's access to his accounts, as the NFT prices were ticking up, and confirmed last week that the accounts were unlocked. Twitter unbanned Trump in November after new platform owner Elon Musk posted a public poll asking users to vote on the decision.
A look at recent sales activity on OpenSea suggests that experienced NFT traders are buying Trump's tokenized cards in multiples, stocking up ahead of a hopeful continued rise. Many of the traders buying several Trump NFTs lately have collected and flipped a wide variety of NFTs in the past—they're not just Trump fans dipping a toe into the space.
Pseudonymous crypto YouTube personality DonAlt tweeted earlier this month that he had bought a bunch of the Trump NFTs as a bet on their future value, calling them "oddly iconic" despite describing them as "hideous pictures."
He added that Trump is likely to be on TV more as his 2024 presidential campaign ramps up, tweeting that Trump is "an excellent meme" and "an excellent grifter."
Mcap for these at the current price point (at floor)
For reference:

Trump: 28k ETH
Shib: 4500k ETH / 160x bigger
BAYC: 750k / 27x bigger

Trump is

1) An excellent meme
2) An excellent grifter
3) Gonna be on TV a lot going into 2024

How much does that make his NFT worth?

— DonAlt (@CryptoDonAlt) February 12, 2023
In a recent YouTube video, DonAlt cited what he sees as a prevalence of conservative and libertarian belief in the crypto space, which he thinks will help the NFTs sustain value despite the initial backlash. Broadly, he sees the NFTs as a long bet that the hurricane of controversy that typically follows Trump will continue on—and perhaps grow even larger.
"It's a 50 IQ play," DonAlt added, suggesting that it's not that intricate of an investment strategy. "It's Trump… he's gonna be loud again in 2024."
Disclaimer
The views and opinions expressed by the author are for informational purposes only and do not constitute financial, investment, or other advice.
Stay on top of crypto news, get daily updates in your inbox.
Source link

Share this article: